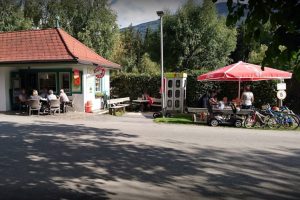 Kiosk, Camping-Shop and Reception
Basic food like bread (except Sundays and public holidays), assorted cold cuts, cheese, milk, butter, several beverages, sweets, toiletries and tobacco goods are sold in the small shop next to the campground. Opening hours like reception (see Getting There).
The reception for check-in and check-out is also in the shopping area.
Free and unlimited WiFi Internet …
…is available all over the campground. Ask for the login-code at your checkIN.
roofed cooking and dining area
A fixed worktop simplifies cooking for breakfast or dinner, especially on rainy days. A fridge, a freezer and a TV-Set are provided in the basement of the building.
Amenities
The amenities are situated in the middle of the campsite. Every shower and washing basin is equipped with hot and cold water. The use of the shower is free of charge. Laundry facilities as well as dish cleaning facilities are situated at the back of the building.